It's been so long since we've been together.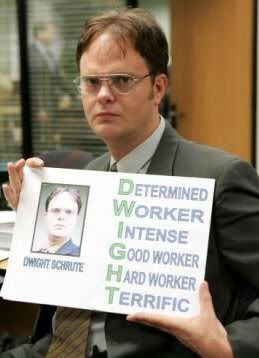 My temporary crazy work schedule threw a kink in our Tuesday night love affair. You had to move to Thursday, and I had to move to the morning shift. Our
burning embers of passion
hardly stood a chance against the
insurmountable
odds.
But now, here we are.
Less than a week away from my triumphant return to my

dayside

newscast
and the same working hours as the rest of the western world. And you, I always knew you'd be there - waiting for me on Thursdays with your funny circa 1992 wired glasses and your Assistant Regional Manager, er, Assistant
to
the
Regional Manager title.
I don't know how to celebrate this triumphant occasion.
Perhaps the Time Warp would be the only appropriate action...